It's a wonderful place to grow up but I was always left puzzled by the sometimes negative reputation it gets from outsiders - Liverpool is vibrant city with so much going on, it is both modern and steeped in history and culture, and really does have so much to boast.
Tyne, although being raised in Devon, was born in Liverpool and so I want him to be familiar with the city and grow to love it as much as I do - and so we visit as often as we can.
Liverpool is quite well known as a great destination for nightlife which is certainly true - there are clubs and bars galore catering for every possible taste, award winning restaurants that hold up easily to the quality and choice available in the Capital, and plenty of casinos and shopping destinations to suit every style and budget from the upmarket Met Quarter boasting the likes of Armani and Molten Brown, to the quirky Bold Street with its vintage and thrift stores.
But what is often overlooked is the appeal of this great city as a destination for family trips - every time we visit we are spoiled for choice as what to fit in as there is so much on offer.
And with hotels such as
Travelodge
in such great central locations, its never been easier to plan a visit!
Liverpool was voted European Capital of Culture in 2008, and it only takes a quick look at just a handful of the many museums and galleries around to see why.
The city has not one, but TWO cathedrals, both of which are a beauty to behold.
My personal favourite place to visit is the Albert Dock, which is home to the Tate Gallery, the Maritime Museum which often runs special exhibitions on the Titanic (A particular interest of mine) and the brand new Liverpool Museum which is one of the most child-focused museums I have ever visited - the exhibits are largely interactive and really give the children the chance to step into the learning experience, Tyne's favourite part was the opportunity to sit in an old tram which was filled with models of people in relevant dress and sound effects to bring the experience to life.
MY favourite part is the karaoke booth where you get to belt out Tunes from Liverpools many musical exports while sporting a bit of fancy dress!
The Museum even has a dedicated "Little Liverpool" section where toddlers and pre-schoolers are taken on a tailor-made tour of what makes Liverpool stand out, giving them the chance to play in the Dockland Water play section and even have a dance to The Beatles at the end of the session!
And speaking of The Fab Four, of course no trip to Liverpool would be complete without a little homage paid to the cities most famous export, The Beatles!
There are Beatles experiences galore if you're a fan and you want to impart their musical genius on to the next generation, everything from The Beatles Story exhibition at the Docks, to John Lennons home which has been restored to its appearance when he was living there and opened as a museum - my personal favourite Beatles experience is the Magical Mystery Tour - the yellow bus that takes you on a tour of all the famous Beatles landmarks in the city, including Penny Lane, Eleanor Rigbys grave and Strawberry Fields!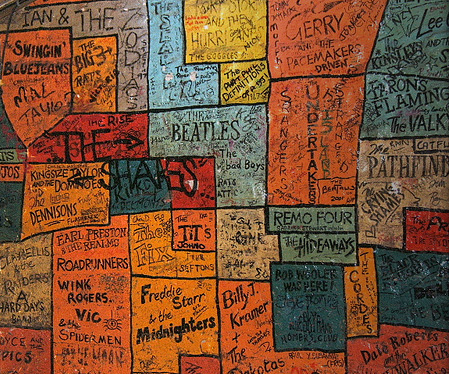 There is also the infamous Cavern Club, where The Beatles played their first gig, and has been graced by many famous names since...all of whom sign the wall outside.
As well as musical greats, Liverpool is also famous for its football teams and whether you're a red or a blue (But you'd better be a red if you're reading MY blog....) the stadium tours will keep you entertained!
Because it's a busy, bustling city people don't often think of nature when they think of a visit to Liverpool but there are plenty of opportunities to enjoy the great outdoors too!
Sefton Park is a beautiful place to walk around on a summers day, and the Grade 2 listed Victorian Palm House is the perfect place for exploring - particularly during one of the many child-friendly events held regularly. The Palm House is close to Otterspool Promenade and Calderstones Park, which are both well worth a visit and as the city now operates the Cycle-Hire service it's easier than ever to explore!
Chester Zoo is also only a stones throw from the city, and if animals are your thing then Knowsley Safari Park is well worth a visit...but watch out for those monkeys, they'll steal your windscreen wipers every time!
Fun!
And finally, there are just so many good old fashioned FUN places around for kids to let loose and enjoy themselves!
From traditional seaside fun at New Brighton and Southport, to imaginative play centres - there is something for everyone.
On our last visit we took Tyne to Underwater Street play centre for the first time - Underwater Street really is a play centre with a difference, with a real car for the children to paint, a builders site to work on, an arts & crafts station with ever-changing adult led activities, play shops such as the Pizza Cafe and Supermarket, and even the chance to experiment with science by panning for gold or putting yourself inside a bubble - it's endless fun!
Check out our little video of Tyne's experience at Underwater Street!
Competition
If I've managed to talk you in to a visit, or if there's anywhere else in the UK that you're interested in going to but you just need a hotel room to make it happen - well here's your chance! Travelodge are giving one lucky reader the chance to win a nights stay at the Travelodge of your choice!
Just enter using the Rafflecopter form below!
Good Luck!
Terms & Conditions
- 1 night at a Travelodge of their choice
- Maximum of 4 people ( unless it's a family of 4+)
- Not redeemable between the 15th Dec – 5th January
- Rooms are subject to availability
- Must redeem the prize within 6 months of winning.
If you enjoy my blog, please consider following me on Bloglovin'
Win competitions at ThePrizeFinder.com
- See more at: http://www.theprizefinder.com/content/nights-stay-travelodge#sthash.mLbAJ4un.dpuf